SUMMERSVILLE, W.Va. — Gov. Jim Justice says he plans on signing a bill that would immediately designate Summersville Lake as West Virginia's newest State Park.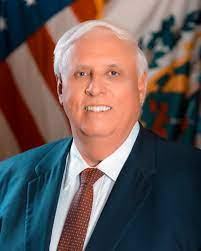 "There are a lot of things that are going on there right now and if we get the drop of the flag and we're able to go, there will be immediate benefits people will be able to run with as soon as we sign the bill," Justice told MetroNews in a phone interview Monday, a day after he proposed the bill to state lawmakers.
The bill is part of the governor's special session agenda. The state House of Delegates and Senate each passed their own versions of the bill Sunday. It will be up for final passage Monday.
Justice said it was important to put Summersville Lake on the map as a way to boost tourism to an already heavily traveled area near the New River Gorge National Park and Preserve.
"With people coming from all over the world, now they'll have access to this incredible new state park right off the highway, right off Route 19. This is going to be good," Justice said.
The Summersville Lake State Park will become the 36th state park.
WV will soon be opening its 36th @WVStateParks, Summersville Lake State Park. The northern shore of our state's largest lake in Nicholas County will be transformed into a premiere outdoor adventure park in one of West Virginia's most iconic spots.https://t.co/NEfw7bRR1z pic.twitter.com/fHo3Pr27bG

— Governor Jim Justice (@WVGovernor) August 6, 2023
It's the first time in more than 30 years a state park has been designated in West Virginia.
The last state park designations were announced at Blennerhassett Island Historical State Park near Wood County and Moncove State Park in Monroe County, according to the governor.
"This adds another wonderful state park to our already existing incredible parks," he said.
The 177-acre park is located on the northern shore of the state's largest and most picturesque lakes.
The governor's office said more than 1 million visitors enjoy watersports at Summersville Lake each year. Visitors can also enjoy hiking, biking, camping and picnicking and other outdoor activities.
More than $150 million in improvements are currently taking place at state parks across West Virginia. According to the governor's office, state park revenue hit another record-breaking year, for four years in a grow, showing growth for both in-state visitation and out-of-state visitation.
State Commerce Secretary James Bailey, who oversees the state Division of Natural Resources, wrote in a statement, "With Governor Justice's vision, we're going to develop this site to make it the nation's premier outdoor adventure park."
Once the bill is approved, the DNR will host a public meeting in the near future to receive input from the public.